Synopsis
The Power of Habit: Why We Do What We Do in Life and Business by Charles Duhigg is a book that explores the science behind why habits exist and how we can change them. Using a range of well-narrated examples, Duhigg explains how old habits can be overridden by identifying and changing the cue and reward of the habit in the habit loop (see Figure 1).
The Power of Habit is a light and fun read.
Lessons
On changing habits…
Duhigg says that because all individuals and habits are different, there are many formulas for changing habits. He recommends a simplified, practical framework for understanding how habits work and how they might change.
In short:
1) identify the routine
2) experiment with the rewards by writing down your emotions and feelings
3) isolate the cue, which may fall into five categories: location, time, emotional state, other people, and immediately preceding actions
4) have a plan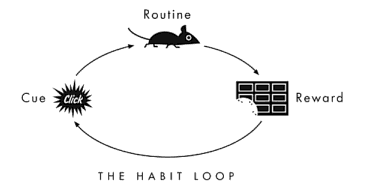 Figure 1: The habit loop
Duhigg also recommends that people focus on one keystone habit to start with. A keystone habit is one that has a leveraged, positive impact on other habits. Exercising routinely is an example of a keystone habit.
Quotes
Tony Dungy (legendary NFL coach) : "Champions don't do extraordinary things. They do ordinary things, but they do them without thinking. They follow the habits they've learned."
Tony Dungy: "Belief is the biggest part of success."
"Not sharing an opportunity to learn is a cardinal sin."
"The golden rule of habit change: you can't extinguish a bad habit, you can only change it."
Something interesting
The basal ganglia is the area in the brain where habits are stored. Humans evolved to form habits because the brain is constantly looking for ways to save effort.
Claude Hopkins, an advertising pioneer, commercialised the habit of brushing your teeth daily by changing the cue and reward in the habit loop.
Foaming was introduced as a reward in shampoo, laundry detergent and toothpaste to enforce the reward of the habit.
Self-help guru Robin Sharma regularly cites a study by Phillippa Lally et al. at the University College London stating that on average, it takes 66 days before a new behaviour becomes automatic.
Links
Charles Duhigg's website
Charles Duhigg on Twitter
Thanks for replying to my review, Charles.
@AneshKalan Thanks Anesh!

— Charles Duhigg (@cduhigg) January 26, 2015